Invisalign is an excellent option for those seeking orthodontic treatment. It provides the same effective treatment as traditional braces without all the metal brackets and wires, all for the same cost. The question then becomes, who is the best person to receive Invisalign treatment from? Should you go to your usual dentist, or seek treatment from an orthodontist? McGrory Orthodontics wants you to have the right information and resources as you begin your journey to your perfect smile. Let's break down the differences between Invisalign treatment from an orthodontist versus a dentist.
Is Invisalign the right treatment for you?
Regardless of where you choose to seek treatment, it's important to know what Invisalign is and how it can make your smile better. Invisalign is a clear retainer customized to your teeth based on photos and X-rays your orthodontist takes of your mouth, with the goal of straightening your teeth. It has become an increasingly popular choice for orthodontics treatment, especially among adults and older teens, because of its discreet appearance, removability, and the fact that it does not include brackets and wires like traditional braces. Invisalign works to treat a number of dental issues such as:
Gapped teeth
Overcrowded teeth
Overbite
Underbite
Crossbite
Every patient takes a different amount of time to complete their treatment, depending on their needs and the movement of their teeth. But on average, Invisalign treatment typically takes eight months to a year. Its benefits are quite similar to regular braces, though with different rules and requirements for cleaning and maintenance.
Orthodontist vs. dentist
Orthodontists and dentists are both trained in administering Invisalign treatment to patients. However, there can be a few differences depending on the technology available in each office and the experience each professional has. There are a couple of questions to consider when comparing the two options.
Who has more experience with Invisalign treatment?
An orthodontist may have a lot of similar training to a dentist, but not all dentists have the same training as an orthodontist. This is because becoming an orthodontist requires finishing dental school plus years of additional training for their orthodontic specialty. Orthodontists focus on moving and correcting teeth, while dentists focus on repairing and caring for teeth and may not have the same concentrated expertise in the tooth-moving field. An orthodontist can use many methods to align teeth and understands each method's strengths and shortcomings. A dentist may only be able to offer basic Invisalign treatment. A good rule of thumb is that every orthodontist is a dentist, but not every dentist is an orthodontist.
What if my treatment plans change?
It's also important to note that your treatment needs may change. While Invisalign is a perfectly valid option, you may find other treatments that might work better for your needs. For example, maybe you'll find that traditional metal or ceramic braces would work better for your teeth, and a general dentist will not be able to provide those for you. In that case, an orthodontist will be more prepared to offer and inform you about other treatment options and help you switch over to a new one.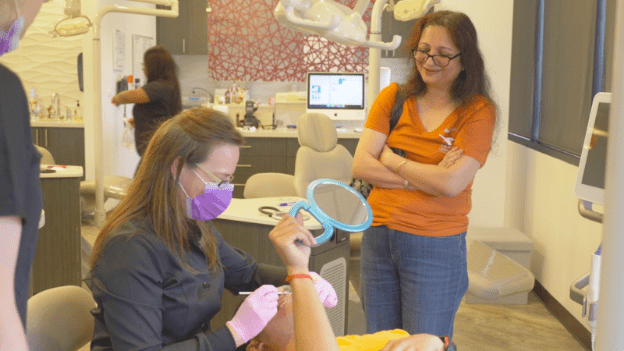 Which option is more expensive?
One general advantage a dentist may have over an orthodontist is the price. While every office and treatment can vary on the final price, general dentists typically charge a lower price for Invisalign than orthodontists, usually to incentivize a patient to choose them over an orthodontist who has more specialized experience and could provide better results. Whatever a "better" price looks like will depend on your personal budget, but if you're looking for a thriftier option, dentists can provide effective and adequate Invisalign treatment for a smaller price.
Who has the best tools and technology for treatment?
When you visit a dentist or orthodontist's office, you may notice the technology in each practice will look very different. This is because dentists offer a wider range of services compared to an orthodontist. In order to provide services like general or cosmetic dental services, dentists need many tools and pieces of equipment to create things like crowns, veneers, fillings, and more. In comparison to an orthodontic office, there is more of a focus on just a select few services such as braces or Invisalign, so you'll only find the technology necessary to provide the best results for those treatment options. Between a dentist's and an orthodontist's office, both will probably have imaging technology such as X-rays or digital scans, but this is also where you can find the difference in Invisalign care. Orthodontic offices have technology that is designed to ensure that treatment creates the perfect smile. For example, the iTero digital impression system creates a detailed 3D image of your smile so the orthodontist can plan the right path for your teeth to move.
Should you choose an orthodontist or a dentist for Invisalign?
Each kind of practice is different, and offers can vary between offices, but there is no one right answer. It all comes down to your unique needs, goals, and budget. If you want the highest quality care that is specialized to your teeth and straightening your perfect smile, an orthodontist would be ideal. However, if you're looking for effective care at a lower price, or don't have time to search for another office to visit, your general dentist is a perfectly valid option. No matter your choice, a dental professional will help you achieve your ideal smile.
Treat your smile right at McGrory Orthodontics
No matter what kind of orthodontic treatment you're looking for, you deserve the right team on your side. Dr. McGrory, Dr. McCarty and their expert team have the skill, expertise, and level of care you can rely on. Since our sole specialty is orthodontics, you can feel confident that you'll receive only the best in treatments, cost, and efficiency as we work together to enhance your smile.
If you're ready to learn more about starting your orthodontic journey with McGrory Orthodontics, we would love to meet you and talk more about your smile goals! There's never been a better time to start your smile transformation, so contact our office today to schedule your FREE consultation with Dr. McGrory or Dr. McCarty!